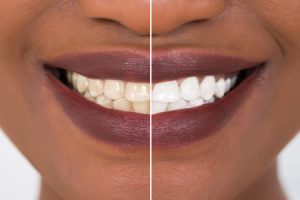 Making the Decision
There's no doubt about it. Our teeth are one of the most defining features of our face. And, unless you're wearing a mask, people tend to look at our mouths when we speak and interact. If you are embarrassed about the way your teeth look, teeth whitening is a fast, easy, and convenient way to improve their appearance.
As we age, our teeth can become discolored, especially if you eat or drink lots of dark-colored substances such as black coffee, dark tea, red wine, berries, pasta sauce, etc. These stain-causing substances can have a cumulative effect over time, putting a real damper on your "pearly whites."
Teeth whitening reverses this process and can potentially take years off the appearance of your smile. Many over-the-counter whitening products promise excellent results. However, none are as effective as professional whitening products available at your dentist's office.
Take the first step today by contacting us to schedule a tooth whitening appointment. During a consultation, you can learn more about how our tooth whitening can work for you.
How does Teeth Whitening work?
Most whitening products use hydrogen peroxide as an active ingredient. With a specially purposed mouthpiece, this gel solution is held in close contact with teeth. Then, the whitening agent can penetrate through the tooth enamel, lightening the layer of dentin within.
Depending on the style of whitening treatment (as well as the degree of staining on your teeth), you may see immediate results. With an exam, we can better discuss what individual results you should expect. Afterward, touch-up appointments or intermittent at-home use can improve your whitening results over time.